Speakers
Click a session topic for a description of that session.

Dave Bernard
Dave is a serial entrepreneur, technologist, inventor, and investor living in Atlanta, Georgia. An expert in new and emerging technologies, Dave has co-founded several companies, including The Intellection Group (TIG), an innovative technology consulting group that was recognized as one of Georgia's top 40 most innovative companies in 2007. TIG specializes in building complex award-winning software-as-a-service (SaaS) systems for both commercial and government entities in North America, Europe, and Africa.
Dave mentors and serves on the boards of several other early stage technology companies. He is Chairman of the SE Projects and Programs Committee for Business Executives for National Security (BENS). Dave gives talks on how technology is disrupting various industries and impacting fundamental aspects of our personal lives. Among the places he has spoken at the U.S. Southern Command (SOUTHCOM), US Special Operations Command (SOCOM), the National Defense University, the Federal Reserve Bank of Atlanta, and the FBI/InfraGard Atlanta Members Alliance.
For over 30 years, Dave has held developer, managerial and executive positions in a variety of industries, including supply chain logistics, healthcare, automotive, property and casualty insurance, retail point of sale, construction, hospitality, real estate, church, sales, financial services, government and academia. He also led TIG's development of a patented technology architecture that unifies web development capabilities with voice recognition, text-to-speech, natural language, RFID and GPS technologies, deliverable to wireless handheld and desktop devices.
Sessions:
Bots, AI, Machine Learning: The End of Employment as we Know it?
---

Toni M. Feltman
Toni Feltman, a Microsoft Certified Professional, is an experienced software developer, project manager, instructor and speaker. Currently Toni serves as the Application Development Manager for CoreLogis, LLC, a Westerville, OH company that specializes in Inventory and Asset management software for local to international government entities. She is also Vice President and a Partner at F1 Technologies and is still an integral part of the company. During her 15 years at F1 Technologies, she has served as both a developer and project manager on numerous projects and as Product Manager for the highly successful FoxExpress product line.
Toni is a well-known contributor to the Visual FoxPro development community. She has spoken at most major FoxPro conferences in North America and Europe over the last several years. Although Toni has expertise in a number of areas, she generally focuses her presentations on Team Development, XML, n-Tier Development and new features in Visual FoxPro. In 2011, Toni was honored by the FoxPro community with a lifetime achievement award in recognition of her contributions to the community throughout her career.
Toni has penned several articles for Advisor Guide to Microsoft Visual FoxPro and is co-author of What's New in Visual FoxPro 9.0 (Hentzenwerke Publishing). Toni also designed and developed Project HookX, a public domain utility designed to allow developers to manage and use multiple project hooks on a single Visual FoxPro Project. Toni is one of several co-authors of DBCX, a public domain data dictionary tool used or supported by many notable Visual FoxPro products including the Stonefield Database Toolkit, Visual FoxExpress, FoxFire! and Stonefield Query.
Toni taught for several years at the University of Toledo on a wide variety of technologies including Microsoft Office applications, XML, various Internet development technologies and database design and programming. Toni also enjoyed a stint as an instructor for AppDev.
Toni's introduction to the FoxPro community came while she worked in the technical support department at Fox Software. Toni was a senior level support technician and Sysop of the Fox Software Forum on CompuServe.
Toni Graduated from Bowling Green State University in 1989 with a BA in Management Information Systems.
Sessions:
Part Time SQL Server DBA
Putting the Pieces Together for Web Development
---

Tamar E. Granor
Tamar E. Granor, Ph.D., is the owner of Tomorrow's Solutions, LLC. She has developed and enhanced numerous Visual FoxPro applications for businesses and other organizations.
Tamar is author or co-author of more than a dozen books including the award winning Hacker's Guide to Visual FoxPro and Microsoft Office Automation with Visual FoxPro. Her most recent books are VFPX: Open Source Treasure for the VFP Developer and Making Sense of Sedna and SP2.
Tamar served as Editor of FoxPro Advisor magazine from 1994 to 2000 and was Technical Editor from 2000 to 2008. She served as co-author of the popular Advisor Answers column from 1993 to 2008. She has also written for FoxTalk and CoDe; she currently writes for FoxRockX.
Tamar is one of the organizers of the annual Southwest Fox conference and founder of the Philadelphia Visual FoxPro User Group. In 2007, she received the Visual FoxPro Community Lifetime Achievement Award. She received Microsoft Support's Most Valuable Professional award annually from the program's inception in 1993 through 2010. Tamar speaks frequently about Visual FoxPro at conferences and user groups in North America and Europe.
You can reach her at tamar@tamargranor.com or through www.tomorrowssolutionsllc.com.
Sessions:
Bind Events for Better Applications
Turning Data Sideways: Crosstabs and Pivot Tables
---

Doug Hennig
Doug Hennig is a partner with Stonefield Software Inc. He is the author of the award-winning Stonefield Database Toolkit (SDT); the award-winning Stonefield Query; the MemberData Editor, Anchor Editor, and CursorAdapter and DataEnvironment builders that come with Microsoft Visual FoxPro; and the My namespace and updated Upsizing Wizard in Sedna.
Doug is co-author of VFPX: Open Source Treasure for the VFP Developer, Making Sense of Sedna and SP2, Visual FoxPro Best Practices For The Next Ten Years, the What's New in Visual FoxPro series, and The Hacker's Guide to Visual FoxPro 7.0. He was the technical editor of The Hacker's Guide to Visual FoxPro 6.0 and The Fundamentals. All of these books are from Hentzenwerke Publishing (http://www.hentzenwerke.com). Doug wrote over 100 articles in 10 years for FoxTalk and has written numerous articles in FoxPro Advisor, Advisor Guide to Visual FoxPro, and CoDe. He currently writes for FoxRockX (http://www.foxrockx.com).
Doug spoke at every Microsoft FoxPro Developers Conference (DevCon) starting in 1997 and at user groups and developer conferences all over the world. He is one of the organizers of the annual Southwest Fox and Southwest Xbase++ conferences (http://www.swfox.net). He is one of the administrators for the VFPX VFP community extensions Web site (http://vfpx.org). He was a Microsoft Most Valuable Professional (MVP) from 1996 through 2011. Doug was awarded the 2006 FoxPro Community Lifetime Achievement Award (http://tinyurl.com/6po3pwv).
Sessions:
Introducing Project Explorer
Introduction to C# for VFP Developers (pre-conference)
---

Rick Schummer
Rick Schummer is the president and lead geek at White Light Computing, Inc., headquartered in southeast Michigan, USA where the team guides the customer's Information Technology investment toward success. He enjoys working with top-notch developers, thrives on the mode of continuous learning, has a passion for developing software using best practices, strives to surpass customer expectations, and shares his knowledge with others whenever he can. After hours you might find him creating tools that improve developer productivity, or writing articles for his favorite technology journals and his blog.
Rick is a co-author of VFPX: Open Source Treasure for the VFP Developer, Making Sense of Sedna and SP2, Visual FoxPro Best Practices for the Next Ten Years, What's New In Nine: Visual FoxPro's Latest Hits, Deploying Visual FoxPro Solutions, MegaFox: 1002 Things You Wanted To Know About Extending Visual FoxPro, and 1001 Things You Always Wanted to Know About Visual FoxPro. He is regular presenter at user groups across North America and is founding member and Secretary of the Detroit Area Fox User Group (DAFUG). Rick is the lead organizer of the Southwest Fox Conference, and is a regular presenter at other conferences in North America, Europe, and Australia. He is an administrator of VFPX, and a Microsoft Visual FoxPro MVP from 2002 to 2011. Rick was awarded the FoxPro Lifetime Achievement Award in October 2010.
You can contact Rick via email at raschummer@whitelightcomputing.com or via his company Web site: White Light Computing, Inc.. Read more of his thoughts on Visual FoxPro and software development on his blog: Shedding Some Light.
Sessions:
Challenges of the Independent Consultant with a Growing Business
Data Corruption, the Bane of Our Existence
---

Phil Sherwood
Phil Sherwood is the president of SherWare, Inc., a software company founded in 1994, with offices in Ohio and North Carolina.
Since graduating with a BS degree in computer science 34 years ago, he's gone from IBM mainframe computers to today's laptops and tablets. He started SherWare, Inc. 24 years ago and develops and markets oil & gas accounting and investing software.
Today SherWare, Inc. provides accounting software to over 700 oil & gas operating companies around the U.S. and Canada. SherWare can be found on the web at www.sherware.com and www.wellprofits.com.
Phil has recently started coaching individuals and entrepreneurs on business and mindset. He's a certified Life Coach in the Strategic Intervention coaching method taught by Robbins Madaness. You can find his coaching blog at philsherwood.com.
When Phil is not working he's playing. He enjoys boating, rock climbing, paddle boarding and playing with his four grand kids.
Phone: 330.465.3569 Email: phil@sherware.com
Sessions:
Google Is Your Friend
Using Facebook for Business (Yes, You Should)
---

Rick Strahl
Rick Strahl is the Big Kahuna at West Wind Technologies on Maui, Hawaii. The company specializes in Web and distributed application development, training and tools with focus on ASP.NET,.NET and Visual FoxPro. Among the tools created and sold by Rick's company are West Wind Web Connection, West Wind Internet Client Tools, West Wind WebSurge, West Wind Html Help Builder and Web Monitor. Rick has been working with Microsoft technology close to 25 years, is an ASP.NET MVP and Insider, a frequent contributor to magazines and books and speaks frequently at professional developer conferences all over the world. For more information please visit: www.west-wind.com, contact Rick at rstrahl@west-wind.com or check out his WebLog at weblog.west-wind.com.
Sessions:
Building Rich Desktop Integrations with the Web Browser Control
Real Time Applications with Web Sockets and SignalR
---

Tuvia Vinitsky
Tuvia Vinitsky is a principal in Vinitsky Consulting. Vinitsky Consulting develops and markets major vertical applications for non-profit organizations, community centers (JCC, YMCA), and delivery management. They also provide custom database software and website development.
Tuvia's Fox experience dates back to the days of FoxBase and CompuServe. He has written for FoxTalk and has been a presenter numerous times at regional user groups. Tuvia has always enjoyed expanding the capabilities of FoxPro, whether it was graphic printer drivers in the days of DOS or Web enabling the latest VFP 9 features.
Tuvia believes in having both breadth and depth of experience and has served as project leader for many large projects, including projects at companies like Avis-Rent-a-Car, Chicago Board of Trade, Marmon Group and Lotus.
Tuvia and his family are long time Chicago residents. He attended Northwestern University, and is an ordained Rabbi. His years at Northwestern, with its reputation for the performing arts, must have left a mark—not only is he known for his popular presentations on software development, but he frequently is a guest speaker on Jewish philosophy and teachings.
Sessions:
Floating on a Cloud: Fact, Fiction, and Fantasy of VFP and the Internet (pre-conference)
The Thin View: VFP and RDP
---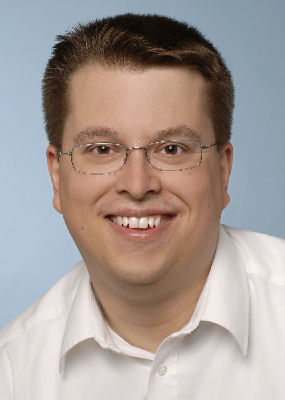 Christof Wollenhaupt
Christof Wollenhaupt is the owner of foxpert Softwareentwicklung und Beratung. foxpert is one of Germany's leading FoxPro companies with offices in several states. We offer FoxPro and .NET development and consulting services as well as a number of vertical market applications in the healthcare business. We are currently hiring. More information on http://www.foxpert.com.
Christof founded foxpert in 1996. He's been a regular speaker at international conferences and user groups since 1997, an international author for half a dozen magazines, a contributing editor to FoxPro Advisor for a decade and a Microsoft MVP for 13 years. He's the organizer of the monthly Microsoft Database Developer meeting in Hamburg.
Sessions:
---